Year 3/4 - Beetles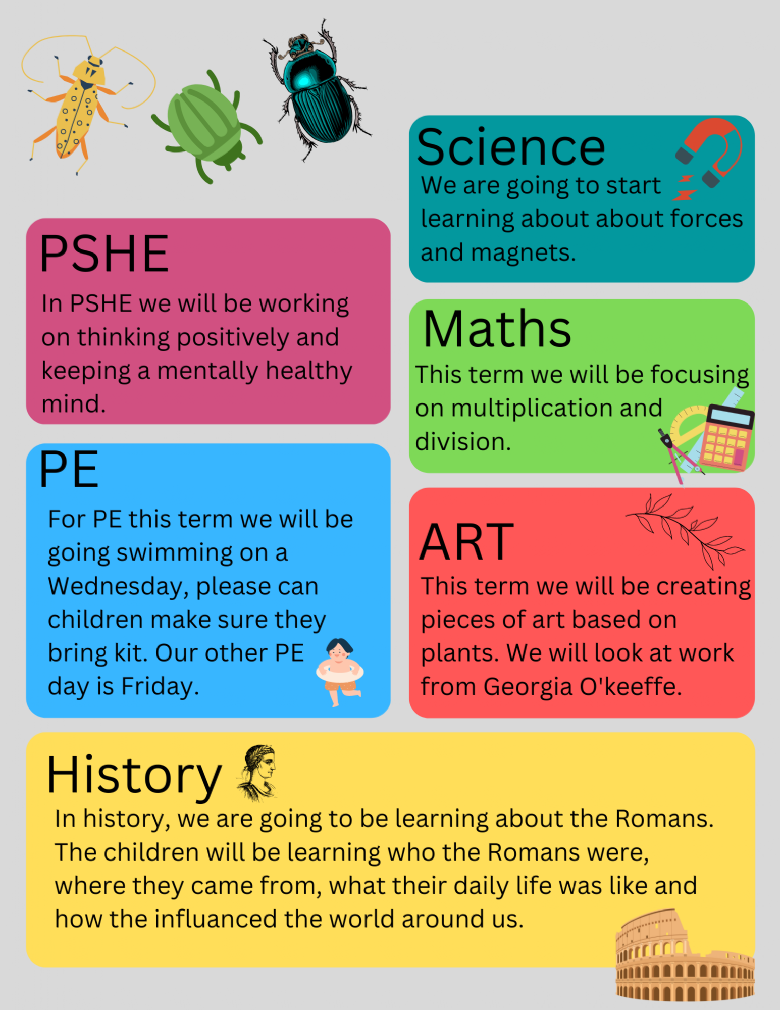 Spring
Spring Term
Welcome back, we hope you have had a fantastic Christmas Holiday!
The Romans
This term we are going to start learning about a new era of British history, we are going to learn about the civilisation that took over from the Celts, the Romans! Our children are extremely excited to learn about these interesting Italian invaders. We are going to learn about where they came from, what their everyday life was like and how they affected where we live.
PE
Get your swimming kit ready, Beeltes are going for a swim! Every Wednesday the children will need to bring in their swimming kit because we will be going swimming in Knighton. Alongside swimming, we will be learning how to play hockey.
As children wear PE kit to school on their PE days please ensure that it is in line with the list below.
P.E. Kit
A Plain white T-shirt
Navy shorts, skort, tracksuit bottoms or leggings
Trainers must be predominantly black, grey or white.
P.E. Hoody available from Club Sport
* PE kit must be plain and non-branded.
Maths
This term we will be continuing to learn about multiplication and division, we will then move on to learning about length and perimeter before we start to investigate fractions.
The Beetles class teachers want to thank you for how hard you all have been working on your timetables, keep up the great work!
Reading
As a school, we are making a huge push with reading. We love reading at Leintwardine Primary. In Beetles class we will be reading a range of different ways daily, and we would like you to encourage you to do the same at home.
Autumn
Autumn Term
The Stone Age to the Iron Age
Last term, we were busy learning about how Britain changed between the Stone Age and the Iron Age. We learnt about how everyday life changed between these early periods of British history and why these periods had different names. In our writing, we wrote fantastic stories about a little Stone Age girl who came to visit the modern day, we also wrote holiday brochures to invite people to stay in a Celtic hillfort.
Maths
This term we have learnt about all sorts of different areas of maths. We have investigated place value, addition and subtraction, timetables, area and we have started multiplication.
PE
We have done lots in PE this term. We have had the pleasure to learn how to do different tricky skills in gymnastics, thanks to the help of an expert gymnastics coach!
We have also be practising running, catching, throwing, jumping and other athletic skills in athletics.
In the second half of the term, we enjoyed playing netball and benchball. In these lessons we developed our catching and throwing skills and we also learnt more tactics for invasion sports.
Science
We have really enjoyed learning about rocks in science. We found out about different types of rocks and how they are formed, the formation of soil and how fossils are created.
We particularly enjoyed our class trip to a local quarry to hunt for fossils.
When we finished learning about rocks, we started to learn about animals and humans. So far we have learnt about nutrients, a healthy diet and the different types of skeletons. We are going to continue learning about his subject after the holidays.